We plan, design and realise:
Websites for big and small firms
Online-catalogues
Online-Shops
Secure online ordering systems
Multimedia presentations
Microsites and Landingpages
Online Business-Cards

Tool for maintaining your website (see info further down)



Layout and Prepress, Translation an Courses

Book Cover Design and Pagination: Click here to see some samples
Design of Brochures, Flyers, Posters, Banners: Click here to see some samples


Translation from German into English and vice versa


Webdesign-Courses in English and German, for beginners and advanced users: Template systems for the creation of websites, such as WordPress, Dreamweaver, Typo3 and many others, are available today, but you quickly realize that you can not do without basic knowledge of markup (HTML) because fine-tuning and corrections in the layout is usually not possible without working directly in the source code.Also learning to use a template-system can be a steep learning curve.

People who prefer not to use a template system, but to create their website individually with an editor like BBedit or EditPlus, can also book a course with us: +49/711 42 98 36 – eMail: info@kupola.de


Our service also includes:
Style development and consulting: You might already have a website, but you would like to change it to adjust to a more up-to-date or enhanced look and feel. We can provide you with visuals, to demonstrate the changes we suggest for the enhancement of your website.
Off-Site/Page Marketing
Illustrations, Infographics and Drawings in different styles: Take advantage of the individuality of illustrations and infographics. Illustrations, drawings or infographics can be used to illustrate and comment content more appropriately or in greater detail than photographs. Caricatures can also be used when suitable. Click here to see some samples.
Integration of Google Analytics or Piwik
Registration of Domainnames and booking webspace
Maintainance of your website/s

SEO – Search Engine Optimization to promote your website in the internet: In order to make your website easily visible to search engines, we apply different SEO-measures. Building the structure of the website itself in a SEO-friendly way, advising our clients about relevant textual content, using the most appropriate meta-keywords, title-tag and meta-description on each page, adding descriptions to each visual's alt-tag etc, there are many more measures to enhance and promote your website. Get in touch: +49 -711- 429836


Would you like to maintain your website yourself?
We have developed a content management system (CMS) with a graphical user interface (GUI), so you can change the content of your website yourself.
Here a few sample layouts: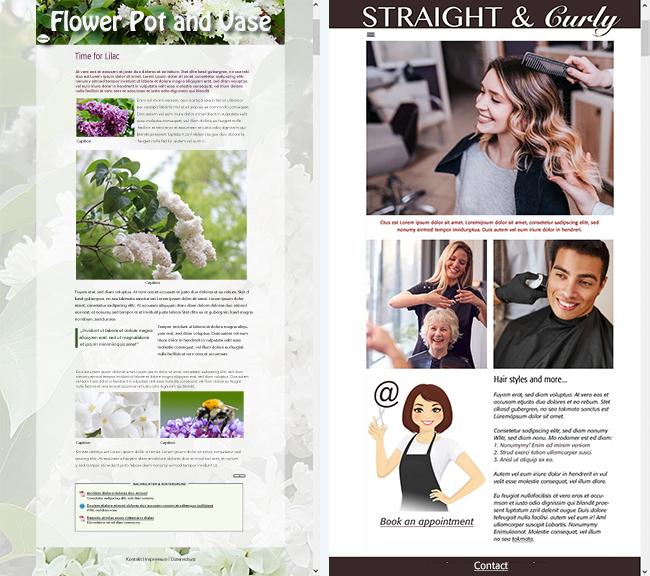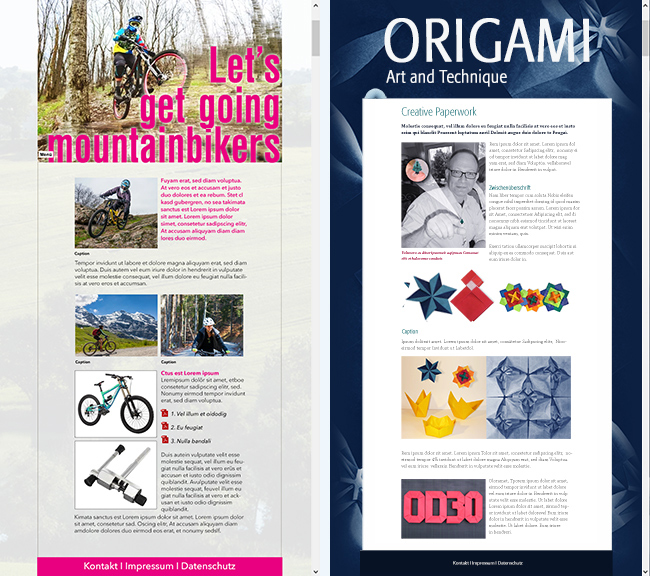 The decision on which of the numerous content management systems (CMS) to base one's own website on is often quite difficult. Most people who are considering maintaining their website want a graphical interface (GUI) for easy and intuitive editing, rather than having to learn how to use a system that is complex. With such content management systems, the learning curve is often quite steep.
We first create the website for you. Afterwards you take over and make changes on your website yourself:
Change texts and headlines
Place pictures and graphics, or take them off the website
Place captions, or remove them
Place subheadings or remove them
Embolden text or italisize it
Put internal and external links in
Integrate PDFs and videos
Save a preview
Create a new menu point and page
Load your changes onto the server etc.

Get in touch: +49/711 42 98 36 – eMail: info@kupola.de


We are currently working, or have worked in the past for: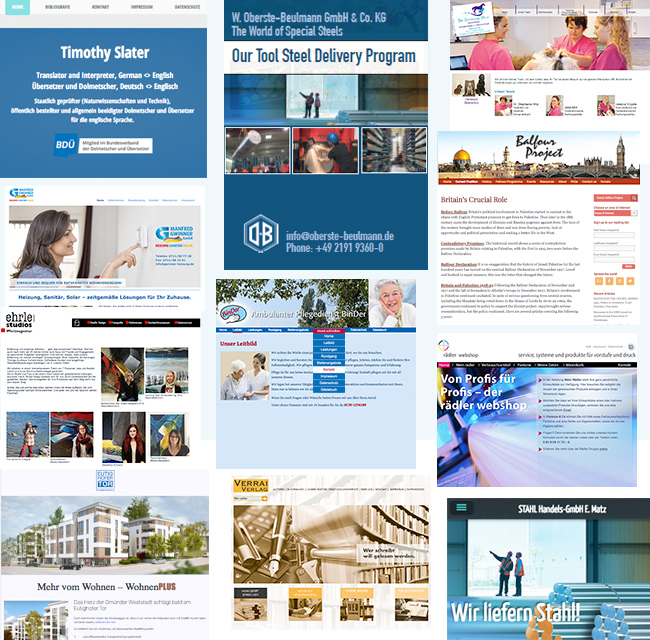 Balfour Project: balfourproject.org
The American University in Cairo Press, Cairo, Egypt
B&B Holding und Business GmbH in Stuttgart, Germany: eutighofer-tor.de (Building Company)
Dr. Renate Blankenhorn, German Help in Berlin german-help-berlin.de (Tutor, Translater)
Publishing house: The Palm Press, Kairo, Ägypten
The Middle East Times, Cairo, Egypt (Weekly newspaper)
STAHL Handels-GmbH E. Matz, Fellbach: stahl-matz.de (Steel trading company)
Grünflink Gmbh, Stuttgart (Lieferung von Bioprodukten im Raum Stuttgart): grünflink.de
(Company delivering bio products)
Werbeagentur Ehrle Studios, Fellbach: ehrlestudios.de (Advertising Agency with Photostudio)
C. Meyer achtsamkeit-cm.de Psychologist
Rädler Gruppe, Landsberg am Lech
Provider of products for the printing industry shop.raedler-gruppe.de
Tierarztpraxis Dr. Stepanie Milz, Fellbach (Veterinary Practice): tierarztpraxis-milz.de
Dr. Güldener Gruppe, Stuttgart: Abrechnungsdienstleistungen im Gesundheitswesen
Abrechnung für Ärzte, Zahnärzte, Therapeuten und Apotheken
(Billing services for the health care sector)
Timothy Slater, Übersetzer: translater.eu
Verrai Verlag, Stuttgart: verrai-verlag.de (Publishing house)
Südmilch,Heilbronn – Milchprodukte (Manufacturer of milk products)
Binder Pflege, Waiblingen (Care home): binder-pflege.de
Markbrandenburg Milchprodukte, Elsterwerda (Manufacturer of milk products)
Puddis, Heilbronn – Milchprodukte
Krankengymnastik Hausbesuche, Stuttgart - (Physiotherapist): krankengymnastik-hausbesuche.de
Stama, Schlierbach (Bearbeitungszentren, Fräs-Dreh-Zentren
STAMA develops machining and milling-turning centers for manufacturers worldwide)
Gwinner GmbH, Fellbach: gwinner-heizung.de
First Class Plants, USA
Photostudio Frick, Sindelfingen
Saphira, Heidelberg (Heidelberg Druckmaschinen AG)
Heidelberg Printing Machines
Praxis Matthies, Syke
Tuffi, Heilbronn – Milchprodukte (Manufacturer of milk products)
Waldheim Stuttgart waldheim-stuttgart.de
Martina Trost, Stuttgart – Gesang und Violoncello
Soldan Kommunikation, Stuttgart – grafik-design-konzept
J&S Wohnbau, Waiblingen (Planning and building company)
miniFamous Club, USA – (Growing and selling plants internationally)


Get in touch...
Kupola, Grafik und Internetdesign
Manuela Kunkel (Graphic- and Media Designer), Ian Portman (Web-Developer)

Kunkel und Portman GbR
Rosengartenstraße 80
70184 Stuttgart
Germany

Phone: +49/711 42 98 36 – Fax: +49/711 42 98 38
eMail: info@kupola.de
You are on the English-Page: here are the links to the other pages
Link to Website-Gestaltung (Webdesign)
Link to Mobile First
Link to Programmierung (Programming)
Link to Website selbst pflegen (Maintain your website yourself)
Link to Suchmaschinen-Optimierung, SEO (Search engine optimization)
Link to Web-Shops
Link to Beratung und Analyse (Analyses, Consultancy)
Link to Webdesign-Kurse (Webdesign courses)
Link to Bücher und Übersetzung (Books and Translations)
Link to Illustrationen, Zeichnungen und Infografiken (Illustration, Infographics, Drawings)
Link to Drucklayout (Print layout and prepress)
Link to Kontakt und Impressum: Kupola, Grafik und Internetdesign (Contact and imprint)
Link to Allgemeine Geschäftsbedingungen und Datenschutz (General terms and conditions, privacy statement)